Welcome to Kanta Rubber Pvt. Ltd.
Kanta Rubber P. Ltd.,(KRPL) is a more than two decade old company with focus on servicing the infrastructure industry like roads and bridges, construction, power apart from various other industries through its range of rubber and polymer based product. Our manufacturing facility is ISO 9001 certified.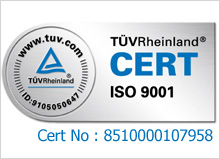 Our Quality
We, at KRPL believe in Complete Customer Satisfaction & Service (C2S2) as we trust and completely subscribe to the philosophy that the reason of our existence is the customers' confidence in us and we do everything possible to live up to the expectation from our esteemed customers by providing cost effective yet quality products to them in time and all the time. This is the guiding philosophy and the motivating factor that directs and drives all our plans and actions to achieve ever increasing and greater levels of achieving Complete Customer Satisfaction & Service. We regularly invest in updating and maintaining our Plant and Machinery, R&D facilities as well in the Quality Assurance facilities.